Book Pic Spotlight / Book Reviews / September '15 "TBRs" / Book Meme
Hello and welcome! Been kind of a crazy month for me. I started off by going to the National Book Festival, where I did not get anything for myself :O (I was eyeing Belzhar by Meg Wolitzer) but I did get a signed copy of Welcome to Mars: Making a Home on the Red Planet for my niece from THE Buzz Aldrin. :D
But alas, amidst sad feelings, I skipped out on the Baltimore Book Fest entirely this past weekend. One of the reasons being that I wanted to make major headway in book four of Elena Ferrante's Neapolitan novels. I made myself this goal, see, tied into the hashtag #FerranteFever, that I wanted to finish the series in September.
So, it's not often that I can go all fangirl-squealy over a literary fiction author (much less an anonymous one from Italy) but I do so happen to have a "Ferrante story." I found her translated novel, The Lost Daughter, years ago while browsing Borders clearance sales. I loved it, and I could swear that I lent my mother my copy, and then I bought my sister another Ferrante backlist book for her birthday. Neither has any recollection of this (my book, sadly, is lost somewhere,) but some months ago my mother came across the first Neapolitan book in a bookshop. After learning that I had books two and three she snatched them from me, and then gave all three to my sister to read. I was waiting to start the series when the fourth book came out, but meanwhile my mother and sister were devouring those previous. Once I pre-ordered the final, they snatched it out of my hands. :P They read all the books before me! But I was the one who got them hooked on #FerranteFever!
Figured I couldn't mention Buzz Aldrin without showing a picture of him signing books. :P Plus, it breaks up the monotony of my usual tome-closeup spotlight pics, hee.
Check out more of my book pics on Instagram!
So, as I mentioned above, I meant to make this my Ferrante reading month, but in the first week of September I was distracted by the Kashua book, which had been recently bequeathed to me from my library hold list. So I kinda/sorta re-dubbed this the month of reading translated fiction…and then I listened to some audiobooks. :P But hey, in a way, doesn't that count, too? Was my first time counting audiobooks as part of my new literature intake, yup yup.
I'm also struck by the inadequacy of the rating system this month. I gave everything a four, but I feel quite differently about all of it; the written reviews are much more pertinent. I was probably too stringent with the Neapolitan novels anyway; they're still fantastic, and the main characters are uniquely memorable. More below!
Second Person Singular by Sayed Kashua
My rating: 4 of 5 stars
Kashua showed us a world where individual Jews and Arabs got along well, though when talking about each other in general, the claws often came out. Perhaps the most implicitly damning, or maybe this is my own biases again, were the shallow stereotypes that the leftist Jewish-Israeli students dealt in–like yeah, the occupation is bad, but Arabs only care about a primitive sense of honor and only respond to force, yadda yadda. As ridiculous as these attitudes sounded within the narrative, I couldn't help but realize that one of the driving plots of the story revolved around the lawyer finding flimsy evidence that his wife might be having an affair, and immediately fantasizing about killing her or stripping her of everything in a Sharia court. Though to be fair, there's a difference between thoughts and actions. And I think this has less to do with Arab culture than with any patriarchal culture. Still, the lawyer was certainly my least favorite character.
I'll end with what were probably the most harrowing lines for me, concerning Amir talking about his Jewish classmates–"I want to be like them. Free, loose, full of dreams, able to think about love. Like them. Like those who started to fill the dance floor with the knowledge that it was theirs, they who felt no need to apologize for their existence, no need to hide their identity. Like them. Those who never looked for suspicious glances, whose loyalty was never questioned, whose acceptance was always taken for granted. Today I want to be like them without feeling like I'm committing a crime. I want to drink with them, dance with them, without feeling as though I'm trespassing in a foreign culture. To feel like I belong, without feeling guilty or disloyal. And what exactly was I being disloyal to?"
***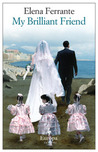 My Brilliant Friend by Elena Ferrante
My rating: 4 of 5 stars
The first person, "looking back" style allows Ferrante to be very vague about specifics, even when so much of the story involves the rigorous pursuit/competition with academics. The first few chapters of the story, when Elena and Lila were in elementary school, were definitely the weakest. I hate being dismissive of children, but it certainly took until adolescence for their personalities to emerge, and for the amorphous issues of their world to start to form.
I have high hopes for this massive literary tome that seems to be taking a Joycean look at female lives and female friendships. On the surface, the competition between Elena and Lila could seem shallow and one dimensional, but the characters are too well developed for that. Lila's righteousness to self-righteousness often sits up sharply in Elena's mind, and Elena herself struggles between worlds, often trapping herself or lying to others as she tries to make sense of where she ought to be.
The end of this novel is surely the end of "childhood"–as Lila, savant that she is, shirks off education and engagements so that she feels that no one owns her, realizes that the choices she's made still demean her in some ways (Oy, that final image was brilliant). Elena, meanwhile, finds through Nino an even broader understanding of being educated, and the differences between where she wants to go, and the toxically vicious world of her family.
***

The Story of a New Name by Elena Ferrante
My rating: 4 of 5 stars
Lila really moved me with her reading to actually gain understanding (occasionally–both in her worldly opinions and her everyday life–she was a bit hotheaded, but no one can be perfect). Speaking of a lack of perfection, Nino seemed to grow into someone who really just liked the sound of his own voice, and grew thin-skinned when he couldn't dominate conversations. I was kind of falling out of love with him as the girls were falling more in love. The summer in Ischia felt long and never ending when I was in the middle of reading it, but I realize now what an important time it was for both girls, insisting out not only their relationships to men, Nino in particular, but also each other. I couldn't ever view this as a shallow love triangle story, because Lila's academic reawakening and Elena's self-secret keeping made them so three-dimensional. I probably identified a little too much with Elena's loneliness, too. :p
Things got a little stickier when Elena went to university–not only for the characters, but with the narration as well. Since Elena was no longer in the neighborhood, we often switched to what was almost third person (presumably Elena recounting what she heard about in hindsight) but it was a little jarring. I really liked the language in the final chapter, when Elena talked of "restoring the clear outlines" to her life after checking in with Lila, who is in a much different place now than at the beginning of the novel. It hearkens to book one, when Lila started losing outlines, everything dissolving, (One could say that this novel traced the entirety of one of her relationships–the one the book is named for. Anywho).
At the moment, Elena seems to be up and Lila seems to be down. But no one is so down, perhaps, as Pinuccia, Rino's resigned and battered wife. She doesn't have Lila's resilience or even forethought to want something better, it seems, and this society, including our main characters, are familiar with and generally unquestioning of this abusive patriarchy. As more of the outside world starts to enter the story in tangible ways, I'm curious about how broader issues might affect the lives of our characters in Naples.
***

Interview with the Vampire by Anne Rice
My rating: 4 of 5 stars
I was hoping that science fiction might lend itself a bit to an engaging plot, for multitasking purposes, but this one was quite meandering and gothic. Probably should have expected that more. I do feel like maybe Rice was examining through her vampires what it meant to be human–all of the passionate existential questions; the vivacity of the physical world (New Orleans was practically a character unto itself); the exuberant sensuality, both in regards to relationships to other vampires and to humans during the kill; even the fatalism at the end. Claudia was like a dark, struggling spirit–the child who could not die, who had neither the human foundation to form her character or be totally self-sufficient as a vampire. Louis, as Armand said, was the voice of his generation (I suppose it's ok to grant him a century or so, seeing how different time is to vampires. :P)
Lestat didn't really feel to me like the decadent "brat prince" from the movie until after he, Louis and Claudia moved into the city proper. Yes, I've seen the movie, and I might even go so far as to say that it's my favorite of Tom Cruise's and Brad Pitt's work, and possibly Kirsten Dunst's as well. The narrative could get a bit rambly after awhile (though part of that is just the style,) and although I don't think "vampire worldbuilding" was the aim of this novel, there were some strange inconsistencies with the fellows in Eastern Europe, particularly with the well-persevered corpse in the undisturbed grave.
***

Those Who Leave and Those Who Stay by Elena Ferrante
My rating: 4 of 5 stars
Lila truly is a remarkable character. So many people would be resigned to the grueling life she led at the beginning–and she certainly paid that piper–.but she ultimately got herself out, too, in part because of her innovation, and the mathematical games she encouraged in Enzo. Her fierce genuineness is something that leaps off the page, from rebuffing the newly vicious Bruno to taking the rich socialists to task for wanting to help the workers but not being able to imagine the dangerous complications of stirring shit up. That certainly seemed to have an effect on Naida, later in the story. Though, like Elena, I'm not sure I trust Lila's most recent job as the story ends, and even the change in her personality. The Solaras continue to become more powerful in Naples as a whole, though I'm a little eyebrow archy over Michele's obsession with Lila. I suppose he's built her up as his manic pixie dream girl of sorts. :p
Elena's grueling school regimen has ended, and the next stage of her life is more stagnant than she might like. I was taken with how ardently critics and academics wanted to twist Elena's book into a political statement, or over-dramatize the sexual scenes in the novel. Made me think anew of the reasons why Ferrante might prefer anonymity. :p. The Neapolitan novels, in moving away from Naples, show us that all men can be pigs, no matter the location or upbringing–from Adele's colleague making lewd passes at Elena, to Pietro himself, who is less than supportive when it comes to his wife's feminist readings. Though I kind of feel bad for Pietro at the end. Elena, like Lila, is far from perfect, and both marriages are rocky. But there's no denying that Pietro is less of a douche than Stefano–maybe he's too rigid, or removed from the world around him, but he means well.
The politics certainly ratchet up in this segment, though most of the story takes place in the insular world of home. Violence has always run rampant, but now there's a political component in fascists vs communists, and a slew of murders–the first really notable deaths since Don Achille in the first volume. The narrative touches briefly, in segments, on Vietnam and other world issues, in the flowing style that makes it secondary to Elena's concerns as she reviews her life (we also jump to the future a few more times here, particularly with Gigliola).
***

The Story of the Lost Child by Elena Ferrante
My rating: 4 of 5 stars
Unlike the last two books, this one was named for an event that happened two thirds of the way through, rather than near the beginning. It's also a very jarring event. So much else of the plot felt natural–relationships starting and breaking down, jobs, homes, sometimes political alliances and beliefs changing with time. As middle aged people, Elena and Lila felt more secure in the foundation of their beliefs (except, perhaps with each other) and less desperate to build up their education with books (Lila, in fact, got turned off even more by some book learning and how it doesn't necessarily improve the characters of learned people). But the actual disappearance lay somewhere between a freak accident and an ultimate inevitability, if we look at the girl more as an extension of her mother than as a person in her own right,p. The text somewhat supports this outlook. There was a lot of violence and a lot of death in this book, leading up to the event and after it, but the lost child was definitely the axis on which the book turned.
The ending, with the dolls, was perhaps a little too conveniently cyclical. But then again, with so many other open ends, with so many other disappointing acceptances of Genarro's lack of education or drive, or the chasms in the relationships between Elena and her three girls, this was perhaps soothing. Elena was desperate to find some fortified boundaries for her friend and Lila, ultimately, gave her one, so I'm led to believe.
Elena and Lila will definitely stick with me. Not that I think the point of these books was to create kinship with the reader, but I feel like I have both of their urges inside of me–the urge to be known for fiction writing and the urge to completely and utterly disappear. I feel some sympathy for Lila's pessimism about the world, and basically want to be left alone. But, like Elena, I also want some proof that I'm worth something–of course that definition of worth and legacy shifts through the years. Maybe all any of us need is a brilliant friend to challenge us–even if we will never fully "succeed," at least to strive.
***

Fangirl by Rainbow Rowell
My rating: 4 of 5 stars
There were only a few details in the fandom part that really made me eyebrow archy. First off, there was a mention of "Harry Potter"–undoubtedly the inspiration for Simon Snow–so it seemed a bit anachronistic, to imagine this world where Simon had taken Harry's place in infamy, and Harry was just some forgettable character. But more importantly, why didn't Cath have any real friends through the fandom? Her backstory referenced that she started out writing stories for pals in a forum, and now she still had a beta reader other than Wren…surely something more would have come from these relationships. I know a fair few people involved in online fandoms (and I've met some good friends through there myself); it seems inauthentic that she could dedicate so many serious years to this existence and have so little to show for it on a personal level. (Relatedly, why couldn't she reach out to Simon Snow nerds on campus? Maybe because the university setting is so huge…she only ran into that one random fan in the library. Meanwhile I have specific memories of teaming up with the creative writing crew at my small college, and most of us were at least slightly Potter-obsessed. :P)
Not to discount that she's basically a "BNF," a big name fan, with a more celebrity following with her fanfic. This led to some intriguing distinctions between writing fanfic for a large, eager audience vs an original story just for her professor (oh, and the fight between genre vs literary fiction continues. :P) I was actually kind of wary about how keen the professor was on Cath–add onto this that she's apparently a perfect student who can even miss exam days and ace everything–but in Rowell's defense, Cath is obviously meant to have a way with words. Alas, maybe if my fanfic weren't so crappy back in the day, I could have been a college star. :P Though I do remember getting a poem published in the literary magazine my freshman year. :D
Added lots of Jewish fic lately, perhaps to even out how little I read of it this month. ;)
There's probably no getting around it now; the seasons are changing and summer is over. Time for the autumn book tag! Thanks for sticking with me through this narrative-heavy newsletter. Happy reading!