Book Pic Spotlight / Book Reviews / June '15 "TBRs" / Book Meme
Hello and welcome! Lots going on in my bookish world this month…two new book signings and the re-opening of the Silver Spring library as my next door neighbor chief among them. :D Read/found some great fiction, too!
I'm quite amused by this book, because it was published in 1984 (thereby making my mother and me the targeted audience) and the visuals are so eighties. Made me think about how dated time really is. I'm getting old, folks. I can almost hear Richard Simmons's Sweatin ' to the Oldies in the background…
Check out more of my book pics on Instagram!
Once again I ended on a high note, though I enjoyed all four novels. The Why of Things, though, is definitely a top contender of favorites of the year. I'll probably have to pay attention to Elizabeth Hartley Winthop's career. (Sheesh, these book swaps are bad for me. My TBR is long enough as it is, but these random finds are making my literary day! :P)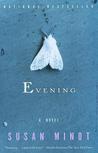 Evening by Susan Minot
My rating: 4 of 5 stars
I found the characters in the movie adaptation to be somewhat archetypal, and the gravitas put on the Ann/Harris relationship to be melodramatic. I'm the book, the characters were even less defined and the romance even more soap operaish. I'll concede to the fact that in the moment, Ann's dalliance with this stranger could seem to hold some significance, and surely all people wonder about what could have been; maybe life would have been better if we made different choices. But it was all a bit too much for me; Ann didn't even seem to have a personality, save to her reactions to immediate events with the men in her lives, and this never-ending obsession with Harris. Not to mention how indulgent it was–Lila, the bride at the setting of this dalliance, seemed more invested in Ann than in her own affairs, and the tragedy at the end of this flashback barely seemed to make a dent in Ann's thoughts….
I rather liked the nurse's section, which chronicled her observations of taking care of the dying during their final days; I thought Minot could've easily extracted that from the novel to sell to a literary journal as a short story. :p. And I generally appreciate her physical descriptions, and the seamless, though complicated, way that Minot layered Ann's different realities, sometimes toppling over each other in one section. But I kinda wish Goodreads had the half star system so I could dock one, particularly since my copy included grammatical corrections made by a previous library patron. Though grammar comes last on my list of concerns; just thought this was a quirk worth mentioning.
***

The Boston Girl by Anita Diamant
My rating: 4 of 5 stars
I felt for all of the characters, especially the friendship that grew up between Addie and Filomena (though honestly, sometimes I think when I read about a Jew and an Italian, it's really just some grand metaphor for me trying to reconcile my heritage. : p). It was awesome to read about young women around the '20s who weren't just house plants; they were devoted to careers and helped each other escape the harrowing life of factory work that plagued their parents' immigrant generation.
But the life lessons couched in nostalgia kept the book from being too raw and genuine. Perhaps if it were told in the present tense, where the future wasn't written, or where Addie grappled more with her relationships. I loved learning about the Rockport lodges and the state of journalism in particular, but at the end of the day, though Diamant's protagonist learned more about the world, she didn't change much. I was particularly disappointed in the character of Mameh, who embodied all of the bitter, cruel and aggressive Jewish mother stereotypes, and ergo didn't seem like a real person.
***

Pictures of the Past by Deby Eisenberg
My rating: 4 of 5 stars
It was a plot heavy book, to the point where the actions of the characters seemed more topically-motivated than coming from well thought out personalities. But I enjoyed the detail given to European art and history. Although the love affair between Taylor and Sarah was a little saccharine, there was surely a sense of grander romanticism in an assimilated Jewish girl walking Paris and Berlin with a doting American boy in the years just before the Holocaust. And a lot of the story was narrated from the present and the future at the same time, like Sarah's advent on the St. Louis. This added gravity, but I wish there were more to the characters themselves.
I was actually most intrigued in that department when it came to Taylor and his fiancée, Emily, who noted some of his flaws. I wondered if perhaps he'd get more dimension than being the beleaguered "good guy" caught between two women, but his marriage to Emily was ultimately just described in hindsight, and was relatively one dimensional with him, again, as "the good guy." Perhaps this whole thing of character development worked better with Sarah, who was spoiled and naive but not cruel, and ergo what she learned about herself as a victim of the Holocaust was more nuanced and interesting.
I didn't feel as invested in the next two generations; they were mostly a means to an end for providing context to the art theft story. I wanted to like Rachel but in general I found her to be thinly drawn; her continual successes at work didn't interest me as much as the twist of Taylor's involvement in them. Courtland was truly the prop; the loser son who assists in everyone else's stories. I get that the main narratives were focused on Sarah/Taylor and Rachel's post-.Court future, but I suppose it was frustrating that they pretty much completely shrugged off this failing man who died young; Taylor just spared him a few thoughts at the end about how maybe he could have been a better father to the boy if he were around more. And Jason's "mature" speech patterns just annoyed me; as a child or an adult, he merely existed to amp up the drama.
***

The Why of Things: A Novel by Elizabeth Hartley Winthrop
My rating: 5 of 5 stars
This novel did what I tried to do with my short story, "Skydiving," in how it dealt with the aftermath of a suicide on the surviving family. Sophie, the girl who killed herself, was largely indistinct, save for generalities about being bound for college and having a teenage social circle at her summer home. I struggled for the same with my character, Andrea; I didn't want to go too deep into what she did (or why) and even who she was as a person, and the reason for that choice is explored so wonderfully in this novel. The "who, what why" is because our family members, in some ways, are always unknowable. The story was about the impact on the living.
Anders most resembled my protagonist, Carol, who took to skydiving as life affirmation as he did to scuba diving. His wife and daughter were slightly more removed in their grief, taking cues from an eerily similar tragedy that occurred ten months after Sophie's death, at their beach house. Daughter Eve became obsessed with how this tragedy occurred, convinced that the authorities weren't giving it proper attention, and wife/novelist Joan became somewhat embroiled in the lives of the surviving family members. Perhaps somewhat egotistically, Winthrop made Joan the most pensive and nuanced of all of her characters–able to consider various aspects of human emotional complexity thanks to her profession as a writer. :p. Though it was Eve, perhaps, who reminded me most of myself–her thought processes were so clear in her head, but whenever she tried to do any real investigating, things kind of fell apart.
Overall, these characters were of a rather subtle variety–no one had a particularly sharp tongue or crazy fetish or anything to make them incredibly distinctive from one another. They were all rather introverted and absorbed in their own little worlds, which works (and is often where I write, particularly in writing short stories,) but can lack the ability to be transcendent with the bigger world and larger issues. You know, besides these individuals grappling with the meaning of life and death. :p. So I can't exactly dislike Winthrop's choices; these are just matters I thought about in the periphery while reading.
I'm stuck between my nailbiting guilt over how many books I add to this list, vs my nailbiting guilt about how many books I don't. (The other week I came across a boatload of translated fiction from India and other places…eeeeep! *bites fist*) Alas that I will never be able to read all of the good literature out there, but here's what I circled upon this month.
Summer is upon us! I cobbled together this seasonal meme from Book Tube and from my own imagination. Hope you enjoy; stay cool, and happy reading!